Celebrating Mathematics and Statistics Awareness Month
April 2, 2019
It's finally April, which can only mean one thing…
Mathematics and Statistics Awareness Month (MASAM) is here!
The effort began in 1986 as Mathematics Awareness Week, as proclaimed by President Ronald Reagan. Since then, Mathematics Awareness Week has expanded to the entire month of April and includes statistics!
The inclusion of statistics is due in part to the rapid growth of statistics jobs, "statistician" being named a top job in America, and the diverse range of fields where statisticians work!
As we celebrate this month, be sure to stay up to date on our Twitter, Facebook and Instagram.
Here are a few resources for teachers and students to kick off MASAM:
Mathematics and Statistics Awareness Month (MASAM) is an initiative from the Joint Policy Board for Mathematics, a partnership between the American Mathematic Society, the American Statistical Association, the Mathematical Association of America, the Society for Industrial and Applied Mathematics and the American Statistical Association to increase public understanding of and appreciation for mathematics.
What are you doing to celebrate Mathematics and Statistics Awareness Month? Tell us on Twitter by tagging us @ThisIsStats and using #MathStatMonth.






Related Posts
This is Statistics' fifth annual Fall Data Challenge, Get Out the Vote, is right around the corner!  You and your classmates will have the opportunity to work in teams to apply your statistical skills to real voter-turnout data and provide insights to inspire more people to vote in the upcoming election. The submission window opens on October 19.   With contest submissions opening soon, we want to introduce the real-life statisticians, with experience in election…
0 comments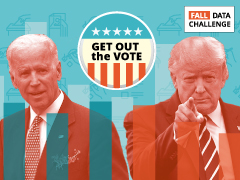 The 2020 Fall Data Challenge: Get Out the Vote submission window is almost here! In preparation, you can begin reviewing the dataset with your team now.    For this year's challenge, all submissions must utilize the IPUMS-ASA U.S. Voting Behaviors dataset. This rich dataset includes information about voting behaviors in the U.S. over the past 14 years, including 28 variables…
0 comments