World AIDS Day: Statisticians Making a Difference
December 1, 2017
In honor of World AIDS Day, we are recognizing how vital statisticians are in combating the disease and improving the lives of AIDS patients.
Data analysis leads to understanding the disease, the populations involved, and ways to progress treatment. Even a cure is possible, according to statisticians based at the Center for Biostatistics in AIDS Research (CBAR) at Harvard T.H. Chan School of Public Health.
CBAR statisticians evaluate drug risks and benefits, and design studies to understand, assess and address challenges. Their work includes evaluating antiretroviral drugs, which can manage HIV, and testing multi-drug regimens. This contributed to the current treatment guidelines for HIV patients as well as to the dramatic decrease in AIDS mortality worldwide. Additionally, data analysis has uncovered the potential of eliminating mother-to-child HIV transfer for those who have access to treatment.
The United Nations recently recognized how statisticians are changing the world. They recognized how they have improved data tracking on factors that spread HIV/AIDS, leading to programs that significantly reduced it.
This is just one way statisticians are making a positive impact in the world every day. The demand for jobs in STEM is increasing, with statistics being one of the most rapidly growing STEM majors in the U.S., and data scientist currently listed as the top job in America.
Interested in being a statistician? Find out more here.
*Image provided by World AIDS Day official website.






Related Posts

The Public Health Data Challenge deadline is tonight! As your team puts the final touches on your submission, remember to finalize and submit your materials before 11:59 PM EST.  Your submission should consist of a presentation with up to 10 slides on your team's analysis and recommendations as well as an essay with a maximum of 500 words describing the technical details…
0 comments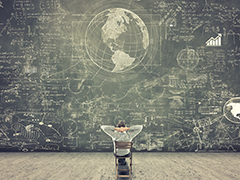 In honor of the science, technology, engineering, and math (STEM) community, today we are celebrating National STEM Day. These disciplines play a vital role in the advancement of scientific innovation and economic growth. National STEM Day is an opportunity to encourage your students to explore and pursue their interests in STEM topics, which includes statistics….
0 comments