Summer Reading List
June 28, 2018
Now that it is officially summer break, This is Statistics is here to make sure you don't fall victim to summer learning loss with these statistics reads. Here's our round-up of books to take poolside:  
By: Giorgia Lupi and Stefanie Posavec
Follow the lives of Giorgia Lupi and Stefanie Posavec, two information designers who highlight their daily lives through a set of postcards that contain just as much data as they do emotion. This compilation of mail art and data visualizations just might inspire you to map your own life!
Everydata: The Misinformation Hidden in the Little Data You Consume Every Day
By: Johnson and Gluck
Learn to be a sophisticated consumer of data! Everydata explores "little data" that will help you make smarter decisions in all areas of your life. It is also filled with countless examples of misinterpreted data, for example: pregnant women avoid caffeine because they interpret correlation as causation.
An Accidental Statistician: The Life and Memories of George E. P. Box 
By: George E.P. Box
Take a look into the life of world-renowned statistician George E. P. Box. In this autobiography, you'll learn about the unlikely events that led him to a statistics career and the statistical methods he taught himself.
Numbers Rule Your World: The Hidden Influence of Probabilities and Statistics on Everything You Do
By: Kaiser Fung
In Numbers Rule Your World, you'll gain insight into the facts and figures that play a large role in your everyday life. With this book you can explore the power of statistical analysis, no training required!
The Theory That Would Not Die: How Bayes' Rule Cracked the Enigma Code, Hunted Down Russian Submarines, and Emerged Triumphant from Two Centuries of Controversy
By: Sharon Bertsch McGayne
The Theory That Would Not Die takes a look into the controversial theorem that has a long and convoluted history. From its development in 1740, to understanding why statisticians considered it taboo for 150 years – learn how Bayes' rule can be found everywhere.
The Tiger That Isn't: Seeing Through a World of Numbers 
By: Michael Blastland and Andrew Dilnot
Learn the trick to seeing straight through confusing numbers in The Tiger that Isn't. By the end of this book, you'll be empowered and fascinated by the bewildering world of numbers.
By Steven Johnson
This riveting read presents a multidisciplinary reflection in solving the 1854 cholera outbreak in London. You'll be presented with history, contagion theory, nature of scientific inquiry and more. Learn just how much this epidemic changed science, cities and the modern world.
Truth or Truthiness: Distinguishing Fact from Fiction by Learning to Think Like a Data Scientist
By Howard Wainer
Ever wonder how you can take all the information you read and figure out fact from fiction? Well, this summer read shows how statistics can help you decipher what's true, especially in the era of fake news. Be entertained and educated, and learn more about how knowledge of data can challenge authority.
Errors, Blunders, and Lies: How to Tell the Difference (ASA-CRC Series on Statistical Reasoning in Science and Society) 
By David S. Salsburg
Science is not always exact. This fact-filled read looks at measurements followed by errors and statistical methods through a historical lens. Learn how oftentimes, "errors and blunders" can lead to useful information and uncover false data.






Related Posts
This is Statistics' fifth annual Fall Data Challenge, Get Out the Vote, is right around the corner!  You and your classmates will have the opportunity to work in teams to apply your statistical skills to real voter-turnout data and provide insights to inspire more people to vote in the upcoming election. The submission window opens on October 19.   With contest submissions opening soon, we want to introduce the real-life statisticians, with experience in election…
0 comments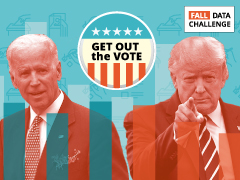 The 2020 Fall Data Challenge: Get Out the Vote submission window is almost here! In preparation, you can begin reviewing the dataset with your team now.    For this year's challenge, all submissions must utilize the IPUMS-ASA U.S. Voting Behaviors dataset. This rich dataset includes information about voting behaviors in the U.S. over the past 14 years, including 28 variables…
0 comments