Good Luck, AP Statistics Students!
July 5, 2017
You worked hard all year and spent long nights in May cramming as you prepared for your AP Statistics exam. Now, starting today through July 9, it's the moment of truth.
As students gain access to their AP test results over the next five days, This is Statistics has our fingers crossed for you!
And don't forget, no matter what your score is, studying statistics means gaining valuable skills that you'll really use in your life!
After you check your scores, get excited for the next step by checking out these ways statistics can pay off for a rewarding career.






Related Posts
This is Statistics' fifth annual Fall Data Challenge, Get Out the Vote, is right around the corner!  You and your classmates will have the opportunity to work in teams to apply your statistical skills to real voter-turnout data and provide insights to inspire more people to vote in the upcoming election. The submission window opens on October 19.   With contest submissions opening soon, we want to introduce the real-life statisticians, with experience in election…
0 comments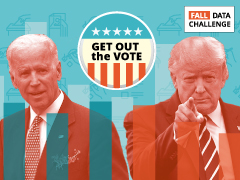 The 2020 Fall Data Challenge: Get Out the Vote submission window is almost here! In preparation, you can begin reviewing the dataset with your team now.    For this year's challenge, all submissions must utilize the IPUMS-ASA U.S. Voting Behaviors dataset. This rich dataset includes information about voting behaviors in the U.S. over the past 14 years, including 28 variables…
0 comments