Obama Campaign's Data Chief on How Data Scientists Make a Difference
November 17, 2015
We recently spoke with Rayid Ghani, chief data scientist of President Obama's 2012 election campaign and a senior fellow at the Harris School of Public Policy at the University of Chicago. He's also head of the Schmidt Data Science for Social Good Summer Fellowship. Rayid explained what it's like to be a data scientist and how they can make a difference in society.
You wear a lot of different hats. Is that common for a data scientist?
I think it often is, and that's one of the perks of the profession. You need to work at the intersection of a lot of disciplines and functions. At the University of Chicago, I teach classes at the intersection of public policy and computer science. I also work with students to apply data science methods to help nonprofit organizations and government agencies solve problems in areas like health, education, and the environment.
What are some of those issues and who are the organizations?
Most recently, we worked with the White House and the Charlotte Police Department to help predict which officers might have an adverse interaction with a member of the community they are policing. The purpose is to identify these officers before an incident occurs and to provide training or other interventions to prevent them from happening.
We've also worked with the Chicago Department of Health to find ways to predict which children in the community are at greatest risk of lead exposure. It's important that we find ways to identify at-risk populations so we can intervene before they suffer any harm.
Why did you become a data scientist?
Like a lot of students, I had no idea as an undergrad which career I wanted to pursue. I was interested in computer science but found the traditional rule-based approaches to solving problems tedious and boring.
Then I took a class in machine learning, an area of study at the intersection of computer science and statistics that's foundational to the data science algorithms used today, and was fascinated by the possibilities. What initially attracted me to machine learning was the intellectual challenge of making computers smarter and the ability to solve difficult challenges. I eventually realized that the same techniques could also be used to make an impact on a lot of issues I was passionate about, such as public health, racial and economic inequality, and education.
What's one of the coolest data science jobs you've had?
I started off as a data scientist in the private sector, working for a research lab at a global management consultancy. I worked on a  lot of really interesting problems, but after 10 years I wanted to pursue a position that would allow me to combine my passion for making a social impact and my skills as a data scientist. That's when I joined the Obama for America campaign. I was the campaign's chief data scientist, and I used data to make voter targeting, messaging and GOTV (get-out-the-vote) efforts more effective. The methods we developed during that campaign in 2012 represented a breakthrough in how data is used to improve voter outreach and mobilize people towards a common mission, and that was both exciting and gratifying.
What advice would you give a budding data scientist?
In addition to getting the technical skills in statistics, machine learning and computer programming, take some classes in the social sciences, learn how to define problems, and communicate with people about the solution you're developing as well as its impact. Learning these skills will not only give you a  broader perspective and understanding of the problems you're solving, but will also increase your chances of making an impact.






Related Posts
This is Statistics' fifth annual Fall Data Challenge, Get Out the Vote, is right around the corner!  You and your classmates will have the opportunity to work in teams to apply your statistical skills to real voter-turnout data and provide insights to inspire more people to vote in the upcoming election. The submission window opens on October 19.   With contest submissions opening soon, we want to introduce the real-life statisticians, with experience in election…
0 comments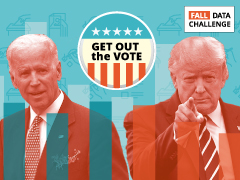 The 2020 Fall Data Challenge: Get Out the Vote submission window is almost here! In preparation, you can begin reviewing the dataset with your team now.    For this year's challenge, all submissions must utilize the IPUMS-ASA U.S. Voting Behaviors dataset. This rich dataset includes information about voting behaviors in the U.S. over the past 14 years, including 28 variables…
0 comments