Back to School! What to Expect from a Statistics Course
September 1, 2017
Gather your pencil bouquets and don your corduroy—it's back to school season! From labs to group projects, there may be some hard work ahead, but if you're taking a statistics course, there are also plenty of reasons to be excited.
If you are taking a statistics course, kudos to you on a wise decision! Read on to learn more on what to expect. If not, read on to consider why you should consider taking a statistics course!
Demand for statistics skills continues to rise, and those who jumpstart their understanding early will have an advantage when it comes to finding a fulfilling and successful career, no matter what field you're in.
Last year, 217,000 students took an AP Statistics course, an increase of more than 10,000 students compared to 2016, continuing a trend back to its start in 1997. We assume similar growth for the other great statistics courses.
We can't pack you a sack lunch, but here are a few points of encouragement to inspire you as you sharpen those no. 2's for a new year:
The path to your passion
"Our classes are populated with students who possess a bewildering variety of interests, some of which are allegedly nonmathematical."
These are the words of AP Statistics teacher Chris Olsen, explaining what makes classes of statistics students different from the rest. Because statistics applies to an unending variety of subjects, students with all sorts of varied passions claim a desk in these rooms.
That means you're in for a year where any topic is fair game, and you're free to take the basic skills you learn in any direction you choose.
An active and engaging learning process
Statistics is different from other mathematics courses in a lot of ways. Chief among them, the goals of a statistics course are different. Expect to spend your time learning to identify patterns, conduct studies, and apply probability and simulation.
A foundation for a bright future
Combine your passions and a strong understanding of statistics, and you've got a powerful combination for a career that excites you and makes a difference in the world.
Statistics drive key decisions for a wide range of fields, and knowing how to use them puts you a step ahead. It's no wonder statistician is the hottest job of 2017.
Excited as we are?
There's no need to wait for class to start. You can start gaining the edge and discovering the power of statistics right now.
No matter where you are in your journey to better understanding statistics, the This is Statistics Students page is a great source for inspiration of where statistics can take you.
If you're already registered for an AP Statistics course, you can start looking ahead at what to expect with the AP College Board's AP Statistics Overview and the AP Statistics Course Perspective.
For those who haven't registered yet, you can learn how to join a course with this starter guide for talking to your counselor or teacher.






Related Posts
This is Statistics' fifth annual Fall Data Challenge, Get Out the Vote, is right around the corner!  You and your classmates will have the opportunity to work in teams to apply your statistical skills to real voter-turnout data and provide insights to inspire more people to vote in the upcoming election. The submission window opens on October 19.   With contest submissions opening soon, we want to introduce the real-life statisticians, with experience in election…
0 comments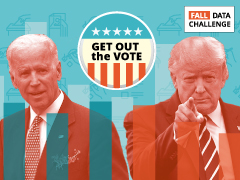 The 2020 Fall Data Challenge: Get Out the Vote submission window is almost here! In preparation, you can begin reviewing the dataset with your team now.    For this year's challenge, all submissions must utilize the IPUMS-ASA U.S. Voting Behaviors dataset. This rich dataset includes information about voting behaviors in the U.S. over the past 14 years, including 28 variables…
0 comments