The Spirit of the Season
December 22, 2016
As we enter the holiday season and the coming new year, many take this time to reflect on the impact they have made or hope to make soon. Statistics not only helps make sense of the world around us, but makes a perceptible impact on our communities and the globe.
Many statisticians see their career as a way to make a difference. From Florence Nightingale, whose early work in data visualization helped save the lives of soldiers during the Crimean War to DJ Patil, the first ever White House Chief Data Scientist, a career in statistics can offer opportunities to make an impact in a broad number of areas. Not to mention statistics is one of the most in demand jobs, with high salaries and job satisfaction.
But don't just take our word for it. In our latest video "Statisticians Making a Difference," you will hear statisticians explain how their work makes our world a better place by improving agricultural production to feed more people or protecting refugees in conflict zones.
We hope this video inspires you to keep the giving spirit of the holiday season in your studies or career. Check out more resources on statistics careers and the types of jobs statisticians do from This is Statistics.






Related Posts
This is Statistics' fifth annual Fall Data Challenge, Get Out the Vote, is right around the corner!  You and your classmates will have the opportunity to work in teams to apply your statistical skills to real voter-turnout data and provide insights to inspire more people to vote in the upcoming election. The submission window opens on October 19.   With contest submissions opening soon, we want to introduce the real-life statisticians, with experience in election…
0 comments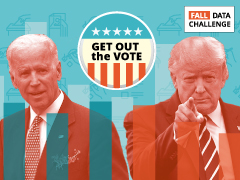 The 2020 Fall Data Challenge: Get Out the Vote submission window is almost here! In preparation, you can begin reviewing the dataset with your team now.    For this year's challenge, all submissions must utilize the IPUMS-ASA U.S. Voting Behaviors dataset. This rich dataset includes information about voting behaviors in the U.S. over the past 14 years, including 28 variables…
0 comments