Statsketball: A Roundup of Ways Statistics is Changing Basketball
March 6, 2017
It's finally March, which means college basketball's biggest event is just weeks away! Are you ready for our Statsketball competition?
Athletes on the court start with a warm-up, and if you're maximizing your bracket odds with statistics, you're going to flex some serious mind-muscles while you crunch those numbers.
We recommend limbering up with these helpful articles showcasing how the field of statistics is shaping the way the sport is played:
1. The NCAA is Modernizing the Way it Picks March Madness Teams, FiveThirtyEight
Traditionally, NCAA's selection process for March Madness has been driven by the Ratings Percentage Index (RPI). But in recent years, this formula has been criticized for allowing a team's strength of schedule to play too heavily into rankings.
The question is, what's a better formula to use? Statisticians have several ideas on the topic, but the work of Ken Pomeroy and his basketball statistics website KenPom.com is front and center in the discussion.
2. At IL Tech, Data Analytics Play Big Part in Basketball Team's Success, Chicago Tribune
It Illinois Tech, coach Todd Kelly isn't just using statistics to assess the basketball team's ranking—data are shaping the team's victories minute by minute on the court. With the power of numbers behind them, the team has shaken off three years of losing records and emerged this year with 17 wins and just 5 losses.
The unexpected edge comes from a collaboration with IL Tech's masters in data science and analytics. By working with students in the program, Kelly is identifying ways to maximize the team's performance, such as looking at the impact of different combinations of players on court, for specific scenarios.
3. What the NCAA's Longest Winning Streak Looks Like, FiveThirtyEight
In February, the University of Connecticut Huskies hit their 100th consecutive win—a record-breaking streak. The team's last loss was in November 2014.
And that's just the start of the team's bragging rights. UConn held two previous winning streak records—for 70 games from 2001 to 2003, and for 90 games from 2008 to 2010. Unsurprisingly, the Huskies have four national championships to show for their wins, too.
So what does the league's winningest team look like in data? It breaks down to some pretty awesome graphics.
4. Big Data Analysis is Changing the Nature of Sports Science, MIT Tech Review
Technology has enabled big data to track just about anything that happens on the court, down to a player's every move. But capturing data and turning those numbers into meaningful analyses are two different skills.
The analysis side of sports statistics still has some big questions open on the court. How can teams put numbers to work to gain an advantage at game time? Joachim Gudmundsson and Michael Horton, from the University of Sydney in Australia, discuss.
5. Ken Pomeroy's Five College Basketball Truths for 16-17, Athlon Sports and Life
One of the sport's best and most renowned numbers guys dives into the data to share his top five takeaways of what to expect from this year's college basketball teams. From a dwindling advantage on the home court to an increase in three-pointer shots, Pomeroy's insights will tell you what to expect to see on the court during March Madness. They may also help inform your own assessment as you hedge your bets on the winners.
Take Your Shot
Statistics is driving the action on the basketball court in myriad ways. As big data continues to expand, statisticians are getting creative to find new ways to mine meaningful analysis from each game. The insights they glean are influencing how teams perform.
Ready to try your hand at it? Now that we've limbered up your number-cruncher, we're passing you the ball. Try your hand at basketball statistics with our Statsketball competition.






Related Posts
This is Statistics' fifth annual Fall Data Challenge, Get Out the Vote, is right around the corner!  You and your classmates will have the opportunity to work in teams to apply your statistical skills to real voter-turnout data and provide insights to inspire more people to vote in the upcoming election. The submission window opens on October 19.   With contest submissions opening soon, we want to introduce the real-life statisticians, with experience in election…
0 comments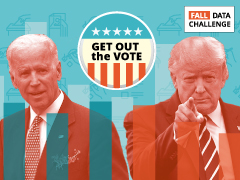 The 2020 Fall Data Challenge: Get Out the Vote submission window is almost here! In preparation, you can begin reviewing the dataset with your team now.    For this year's challenge, all submissions must utilize the IPUMS-ASA U.S. Voting Behaviors dataset. This rich dataset includes information about voting behaviors in the U.S. over the past 14 years, including 28 variables…
0 comments