Statsketball: Predictions & Trends from the Submissions
March 22, 2018
How are your NCAA Men's Basketball Tournament brackets playing out?
As the judges review the entries and March Madness kicks off, here is your chance to glimpse behind the curtain and see what stats and sports enthusiasts like you predicted for the NCAA Men's Basketball Tournament—and how they're measuring up to the chaos as each game plays out!
Here are some of the standout trends and insights from student submissions:
"Build Your Own Bracket" (BYOB) Challenge trends:
Villanova and Virginia were favored among the #1 seeds, with Xavier and Kansas lagging far behind in confidence for tournament success
#3 seed Michigan State tied with #1 seed Villanova as the most popular pick
Students agree this could be the year for David to beat Goliath, with #16-seed Penn as the favorite among this ranking
Duke edged out archrival and 2017 NCAA Champion North Carolina, 27-25
The teams in last year's championship matchup – North Carolina and Gonzaga, were picked in the same amount of entries (25)
"Pick 'Em Upset" Challenge trends:
Penn was the top #16 seed choice for round 1 to defeat #1 seed Kansas (selected by more than 20%)
Over 15% predicted #1 seed Xavier to lose in the first round
Nearly 30% had Georgia State upsetting #2 Cincinnati
How do the predictions measure up? 
The trends were particularly notable since no #1 seed had ever been usurped in the first round of the tournament. Students were right that this was the year the streak would break—but only 7% predicted the team that would actually be victorious in this history-making moment: UMBC defeated #1 seed Virginia before succumbing to Kansas State in round 2.
Duke plays on into the Sweet 16 tomorrow night, while North Carolina made an early exit in round 2, and Gonzaga's odds for making it into the Elite Eight will be settled tonight against Florida State. MSU is out already, but #1 seed Villanova may win the tournament yet.
If your bracket didn't measure up to the results so far, don't feel bad—experts are calling it a particularly chaotic year for the Tournament, with half the top 8 seeds already gone at the third round.  Statistics can tell us a lot, but there is always a wild card factor that comes into play in a tournament scenario, and clearly, this year is no exception – that's where the "Madness" comes in!
As the rest of the contest plays out, keep an eye on the BYOB leaderboard, and stay tuned for the winner announcements in early April.






Related Posts
This is Statistics' fifth annual Fall Data Challenge, Get Out the Vote, is right around the corner!  You and your classmates will have the opportunity to work in teams to apply your statistical skills to real voter-turnout data and provide insights to inspire more people to vote in the upcoming election. The submission window opens on October 19.   With contest submissions opening soon, we want to introduce the real-life statisticians, with experience in election…
0 comments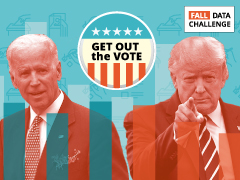 The 2020 Fall Data Challenge: Get Out the Vote submission window is almost here! In preparation, you can begin reviewing the dataset with your team now.    For this year's challenge, all submissions must utilize the IPUMS-ASA U.S. Voting Behaviors dataset. This rich dataset includes information about voting behaviors in the U.S. over the past 14 years, including 28 variables…
0 comments