Statistics: The Career of the Future
May 16, 2018
Statistician is listed among the Bureau of Labor Statistics' fastest growing careers in 2018 and it's predicted to grow 33 percent by 2026. During that same period, jobs are only expected to grow by 7.4 percent. In 2016, the median statistician made over $80,000, much higher than average $50,620.
It's a great time to be a statistician!
Statistics graduates are even being hired by some companies on a freelance basis. Even if you don't want to pursue a career as a statistician, statistical literacy is becoming a basic skill that can give you a competitive edge in any field.  Even taking a single statistics course can give you a basic understanding that can prove invaluable.
At the current graduation rate for statisticians, there may not be enough skilled workers to satisfy the need for statistical analysis and data mining skills. To meet the demand, universities are adding new programs in data science and statistics.
Interested in learning more about careers in statistics? Check out how these statisticians are making a difference.






Related Posts

The Public Health Data Challenge deadline is tonight! As your team puts the final touches on your submission, remember to finalize and submit your materials before 11:59 PM EST.  Your submission should consist of a presentation with up to 10 slides on your team's analysis and recommendations as well as an essay with a maximum of 500 words describing the technical details…
0 comments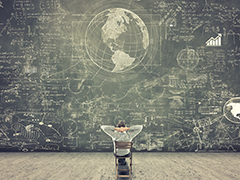 In honor of the science, technology, engineering, and math (STEM) community, today we are celebrating National STEM Day. These disciplines play a vital role in the advancement of scientific innovation and economic growth. National STEM Day is an opportunity to encourage your students to explore and pursue their interests in STEM topics, which includes statistics….
0 comments