Statistics in 2019: Our Top Highlights of the Year
December 19, 2019
It's been another great year for statistics!
Careers in statistics, the science of using data to make decisions, are still among the fastest-growing and top-paying jobs in the country. As data availability increases, there is a greater need for experts to interpret what it means—statisticians are in high demand in any sector, all over the world. By pursuing studies or a career in this field, you're setting yourself up for a bright future in 2020 and beyond.
To help you along the way, here's a look back at the This is Statistics posts you and other students turned to most throughout the year:
From the start, statistics remained a top career in America this year! According to rankings from USA Today and U.S News & World Report, statisticians report that they're paid well, have satisfying work/life balance, experience low stress and are fulfilled by the work they do.
If that sounds good, we have even better news—the Bureau of Labor Statistics continues to project increased demand for statistics skills in the workforce in the years to come!
Gearing up for a career in statistics? Good choice! Here we've gathered tips to help you prepare for the interview, along with some great additional resources to help you win your first job as a statistician.
Over the summer, we recommended taking some time to enjoy these great statistics reads–and you've continued to crack them open all year long. From inspiring your next data visualization to exploring real-world examples of statistics in action, these books will get you excited for the year to come.   
We love talking to statisticians to learn more about their work and research—especially since there's so much variety in the day-to-day work of a statistician. Dr. Tim Hesterberg, senior statistician at Google, explains how the company makes data-driven decisions and experiments with new products.  
Statistics is applicable in virtually every industry, including at Silicon Valley tech companies. Data scientist Kelsey Warsinske discusses why she loves statistics, how she first became interested in the field and the importance of statistical literacy.  






Related Posts
This is Statistics' fifth annual Fall Data Challenge, Get Out the Vote, is right around the corner!  You and your classmates will have the opportunity to work in teams to apply your statistical skills to real voter-turnout data and provide insights to inspire more people to vote in the upcoming election. The submission window opens on October 19.   With contest submissions opening soon, we want to introduce the real-life statisticians, with experience in election…
0 comments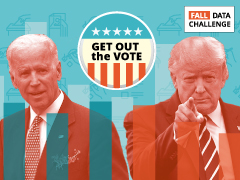 The 2020 Fall Data Challenge: Get Out the Vote submission window is almost here! In preparation, you can begin reviewing the dataset with your team now.    For this year's challenge, all submissions must utilize the IPUMS-ASA U.S. Voting Behaviors dataset. This rich dataset includes information about voting behaviors in the U.S. over the past 14 years, including 28 variables…
0 comments