Interview with Jill A. Dever, Statistics Program Director at RTI International
October 6, 2015
What or who inspired you to be a statistician?
If I start at the very beginning, I have to blame it on those aggravating math flash cards. My parents worried about my slow progress in class, so every afternoon, instead of letting me watch "Rocky and Bullwinkle," my father would sit with me at the kitchen table and quiz me while I grumbled. "Three times five? Nine times two?" Then there was the desire to keep up with my favorite, super-smart big brother, who helped me with calculus in high school.
Flash forward a few years. I'm a junior at the University of Louisville working toward a bachelor's in mathematics. I walk into one of my favorite professor's office, Steve Seif, and ask, "What in the world am I going to do with this degree?" "Well," he said, "you like health and medicine. Ever thought about being a statistician?" So off to UNC Chapel Hill for a biostatistics master's degree.
My UNC biostat adviser, Keith Muller, told me to seek out a career either in preclinical trials or that "survey stuff" I was learning at the (then named) survey research unit with Bill Kalsbeek. So, my fate was set as a survey statistician.
What is the most exciting part of your job?
The opportunity to learn new statistical techniques (e.g.,dual-frame RDD, ABS, and nonprobability studies) and then apply them to actual surveys. To date, I have worked on a variety of surveys that address issues of our times, including smoking cessation, physical therapy, erectile dysfunction, Gulf War Illness, and STEM education.
Name a few specific skills you need to do your job?
Communication skills are paramount; I would suggest this as a critical need for anyone. A solid foundation in survey research and programming skills is important. I would also add flexibility to the mix. I'm a planner, and sometimes your plans for the day are changed within the first 10 minutes. This was (and is) a difficult skill I learned on the job.
What do you do in your job now that didn't exist 10 years ago?
That's a tough question. Several methods for conducting surveys existed 10 years ago, but were not commonplace, including address-based sampling, the use of paradata, responsive designs, total survey error, and nonprobability web panels.
Name one or two favorite blogs or books you have read and would recommend to others.
Apologies for the self-promotion, but I would recommend Practical Tools for Designing and Weighting Survey Samples by Valliant, Dever, and Kreuter. This book is geared toward survey researchers at all levels with an eye toward reality. The historic textbooks assume perfection, such as complete participation from a nonresponse follow-up sample. Thankfully, we live in imperfection, or as I like to call it, job security. Also, this book highlights two fantastic researchers—Rick and Frauke—who are dear to me.
Also, I would recommend All Passion Spent by Vita Sackville-West. This is one of the books that taught me years ago to really live life and enjoy the ride.
What advice would you give to young statisticians just beginning their careers?
My young colleagues bring a fresh perspective to the science sometimes through seemingly innocent questions: "So why have we always done it this way?" Their energy is infectious. I thoroughly enjoy putting challenges before them and watching them flourish beyond their own expectations.
I have a few words of advice for young statisticians. First, cheat off of someone else's paper. What I mean by that is you are no longer in school, so ask questions, borrow computer code, and mimic good writing styles. Second, pretend you are in school. Keep learning new skills and challenging the status quo. Finally, identify at least one mentor. It's great to have a variety of support systems and perspectives.
What do you enjoy doing in your spare time?
My husband, Vince, and I enjoy working in the flower garden of our Capitol Hill home. I like to cook, especially when I have time to experiment with new recipes. I love to play with my three-year-old Labradoodle, Hero (named after the heroine in Much Ado About Nothing); traveling with my extended family; attending the theatre; and watching weird TV. Listening to music and dancing are great pick-me-ups when my energy is low. I also like to exercise, including yoga where I've learned to laugh at myself and stand on my head. My latest adventure is biking in DC. Karol Krotki is cheering me on.






Related Posts
This is Statistics' fifth annual Fall Data Challenge, Get Out the Vote, is right around the corner!  You and your classmates will have the opportunity to work in teams to apply your statistical skills to real voter-turnout data and provide insights to inspire more people to vote in the upcoming election. The submission window opens on October 19.   With contest submissions opening soon, we want to introduce the real-life statisticians, with experience in election…
0 comments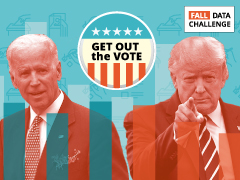 The 2020 Fall Data Challenge: Get Out the Vote submission window is almost here! In preparation, you can begin reviewing the dataset with your team now.    For this year's challenge, all submissions must utilize the IPUMS-ASA U.S. Voting Behaviors dataset. This rich dataset includes information about voting behaviors in the U.S. over the past 14 years, including 28 variables…
0 comments