Fall Data Challenge: Educator Resources
July 29, 2021
Educators, here are some tips on how to incorporate the Fall Data Challenge into your classroom and inspire your students to develop their statistics literacy:
Get Your Class Involved
Offer the Fall Data Challenge as extra credit or as a class assignment

Volunteer to help students form teams, and/or to sponsor teams

Offer your classroom

 

(or if your class is virtual, your Zoom or other online meeting tools)

 

as a meeting and workspace for student teams 
Introduce Students to the Fall Data Challenge
The Fall Data Challenge gives students the chance to apply their statistical skills to real world issues.

It's a contest from the American Statistical Association where students can analyze real data to help address a pressing current issue.

To compete, students must form teams of 2 to 5, find a teacher to sponsor, and make sure they have read about the submissions process on the Fall Data Challenge web page.
What is  

Statistics?

 
Statistics is the science of learning from data. Statisticians turn data into knowledge, detecting signals from the noise in the data.

Statistics is among the fastest-growing jobs around the world. The 

Bureau of Labor Statistics 

listed statistician as one of the fastest-growing careers between 2018 and 2028.

Those with statistics training can choose from a wide variety of careers.

If students don't want to be statisticians, they will still benefit from taking statistics classes.

More and more career fields need workers who are statistically literate, especially in our growing data-driven economy.
 Get more resources about statistics in our Educator Toolkit.






Related Posts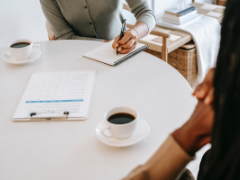 So, you've decided to pursue a career in data science—smart choice! Statistics and data science are some of the fastest growing and most in-demand careers. With so much data touching practically any topic, statisticians and data scientists are more sought after than ever before.  But if you're struggling to understand what all those different positions…
Educators, here are some tips on how to incorporate the Fall Data Challenge into your classroom and inspire your students to develop their statistics literacy: Get Your Class Involved  Offer the Fall Data Challenge as extra credit or as a class assignment Volunteer to help students form teams, and/or to sponsor teams Offer your classroom (or…