July 25, 2019
Chen Teel: Statistics for Personalized Gaming at Electronic Arts

When we say that statistics is used even in the most unlikely places and across every industry — we really mean everywhere. Chen Teel is senior manager of data science at Electronic Arts, the video game company that created "Battlefield," "The Sims," "Need for Speed," and EA Sports games like "FIFA" and "Madden NFL."
At EA, statistics help the company provide a better in-game experience, as well as recommend other games the player may enjoy based on their gaming habits.
Sound like a fun gig? Read on to learn more about how statistics can get you on the creation side of gaming, and what Chen's day-to-day work is like.
What does the data science team do at EA?
At EA the data science team brings three things together: statistics, engineering and domain knowledge of video games. We are full stack data scientists, so we understand the business needs, and then we review data and build models, and put models into production. We also provide some technical reports to our stakeholders.
What sorts of projects do you work on?
As a statistician on the data science team of Electronic Arts, we work on a variety of projects. So we run surveys for players across all different countries so we can see for players what's the most important to them when they play video games. We also review online gameplay statistics and do predictive modeling to understand our players' journey within EA, which lets us to assess new features and improve the experience of our players.
We analyze player behavior data and do predictive modeling to see what a player does in different phases of their journey within EA.
How do you use statistics?
Our goal is to know our player better. So all the data analysis we do, all the statistics we do is [because] we want to understand our player better. What do they like to play? And what will turn them away? By doing what can we enhance their in-game experience? Those are our goals.
We can provide data insights to achieve those goals. For example, for the in-game: one player logs into "Battlefront," one of our battlefield games, and our statistics can help direct them quickly to the game mode they may be interested in and enjoy the most. When they play multi-player games, it'll be very helpful if we have a matching algorithm match them with the players with a similar level so they can get the most enjoyment and play with the players they enjoy to play with.
How are you making an impact at EA?
I'm a gamer, so the coolest part is that with all the work I do I can see the impact in the games I like. I think that not everyone has the opportunity to do that. I love our products, and I see a quick turnaround from our data scientists' ideas into implementation.
For example, we designed the algorithm for the recommendations system for Origin.com, our PC platform, so one player logs into Origin.com and they will see a carousel of tiles that shows the games you may also like. That algorithm was developed by us – so I'm super proud of that.
What advice do you have for future statisticians?
People ask me how to prepare for a career as a statistician, students ask me how to look for jobs and how they need to get ready while they're in school. I would say that it depends on what you want to do with statistics. Keep your career in your mind. If you want to work in a pharmaceutical company, you'll probably need to study some clinical trial and survival analysis. If you want to work as a data scientist in tech, like EA, you would need to study some machine learning, maybe take some courses in computer science even though you're a statistics major.
To learn more about statistics in the real world, check out these statisticians:






Related Posts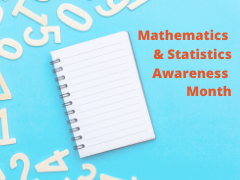 It's Mathematics and Statistics Awareness Month (MASAM), and This is Statistics is celebrating all month long with a Facebook Live series spotlighting real statisticians in a wide range of fields—the perfect addition to your digital classroom! Join us every Thursday through April at 2pm ET for a live session with a real statistician! Learn how…
When you think of the biggest companies in the U.S. and the world that are built on data, what do you think of? Amazon? Uber? Stitch Fix? Data scientist Jeremy Gu has experience at all three, using data to advance their offerings and make strategic business decisions. After Jeremy graduated from the University of Minnesota,…