Announcing the 2017 Statsketball Winners
April 19, 2017
As the buzzer sounded over North Carolina's NCAA Men's Basketball Tournament victory, This is Statistics's first Statsketball competition also came to an end. And that means we've got winners!
Congratulations To Our Top-Placing Teams
Pick 'Em Upset Challenge Winners
High School: Naveen Gooneratne, senior, Lower Merion High School, Ardmore, Pa.
Undergraduate: Michael McLaughlin, junior, Temple University, Philadelphia, Pa.
Build Your Own Bracket Draft Challenge Winners
High School: James Andrews, Jordan Levy, and Connor Heuerman, seniors, College Park High School, Pleasant Hills, Calif.
Undergraduate: Jason Thompson and Graham Pash, sophomores, North Carolina State University, Raleigh, N.C.
The ASA also congratulates the runners-up in the Tournament contests:
High School: Miles Kelly; Aidan Trainer; Jessie Epstein
Undergraduate: Brady Ulloa; Matt Hansen
"We wanted students to think hard about how they might take available information and turn it into some understanding of what future events might look like," ASA executive director Ronald L. Wasserstein stated in a Wall Street Journal article about the contest. "You could pick your team based on your favorite color, or you could use a model that takes into account player performance, home and road activity, and records against similar opponents."
In the Upset Challenge, students picked the teams most likely to win in an upset in the Round of 64, earning two points for each winner picked correctly and additional points for predicting an upset, correlated to the difference between those teams' seed rankings.
The Draft Challenge assigned a draft point value for each seed, with highest seeded teams receiving the highest point value (75 points) and the lowest seeded teams the least (1 point). Entrants compiled a group of teams with the most potential for round-by-round victories, without exceeding 224 draft points. For each round one of their teams advanced, students received points.
For more about Statsketball, check out these posts:
Or, visit the Statsketball contest page.






Related Posts
This is Statistics' fifth annual Fall Data Challenge, Get Out the Vote, is right around the corner!  You and your classmates will have the opportunity to work in teams to apply your statistical skills to real voter-turnout data and provide insights to inspire more people to vote in the upcoming election. The submission window opens on October 19.   With contest submissions opening soon, we want to introduce the real-life statisticians, with experience in election…
0 comments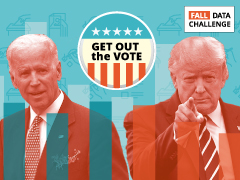 The 2020 Fall Data Challenge: Get Out the Vote submission window is almost here! In preparation, you can begin reviewing the dataset with your team now.    For this year's challenge, all submissions must utilize the IPUMS-ASA U.S. Voting Behaviors dataset. This rich dataset includes information about voting behaviors in the U.S. over the past 14 years, including 28 variables…
0 comments