2017 is the Year of the Statistician
January 27, 2017
Statistician: it's a title sparking business-card-envy across all kinds of industries. According to U.S. News & World Report's 2017 rankings, it's the best job in STEM, it's the best job in business, it's the fourth best job, period.
So, what makes a career as a statistician top the charts? U.S. News weighs several factors like career satisfaction, salary, job growth, and advancement opportunities to determine the best jobs of the year.
Career statisticians have the opportunity to work in nearly any industry they are passionate about, which makes for a happy job! From improving the agriculture industry, to solving spatial analysis challenges for the fire department, to managing data science at the White House, and more, virtually every industry needs workers who are skilled in statistics.
Jobs in statistics are also growing fast as companies seek to fill more and more data-driven roles. Over the past five years, 65 percent of employers said they needed more smart hires who know stats, according to a recent survey by SHRM and sponsored by the American Statistical Association.
Data Science jobs are big this year too. Glassdoor has taken note, with data scientist topping the charts on their 50 Best Jobs in America list. When ranking these roles, Glassdoor takes into account three determining factors: "number of job openings, salary, and overall job satisfaction rating."
You don't need to take a course in data science or statistics to understand why they are great career opportunities. View this year's new list of U.S. News and World Report's 2017 best jobs here and Glassdoor's 50 Best Jobs in America here.
Since scientists enjoy evidence, here is more proof that 2017 is no fluke. Statistics, biostatistics and data science careers have been topping the charts for years:






Related Posts
This is Statistics' fifth annual Fall Data Challenge, Get Out the Vote, is right around the corner!  You and your classmates will have the opportunity to work in teams to apply your statistical skills to real voter-turnout data and provide insights to inspire more people to vote in the upcoming election. The submission window opens on October 19.   With contest submissions opening soon, we want to introduce the real-life statisticians, with experience in election…
0 comments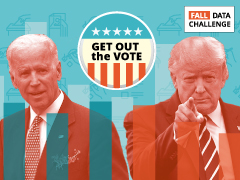 The 2020 Fall Data Challenge: Get Out the Vote submission window is almost here! In preparation, you can begin reviewing the dataset with your team now.    For this year's challenge, all submissions must utilize the IPUMS-ASA U.S. Voting Behaviors dataset. This rich dataset includes information about voting behaviors in the U.S. over the past 14 years, including 28 variables…
0 comments